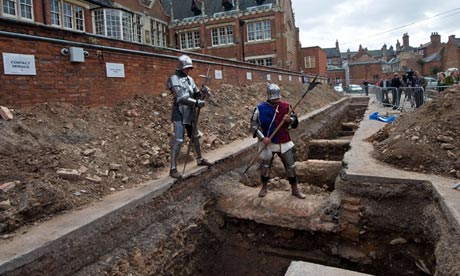 Men dressed as medieval knights at the Leicester site where a skeleton that researchers believe could be Richard III was found. Photograph: Gavin Fogg/AFP/Getty Images
DNA tests are being done to verify whether skeleton discovered under Leicester car park belong to last Plantagenet king
A Tory MP has called for a full state funeral for King Richard III, if remains discovered beneath a car park prove to be those of the medieval monarch.
Chris Skidmore, MP for Kingswood and the author of a book about the king's bloody final battle, said he hoped DNA tests would show the skeleton found in Leicester was that of the Plantagenet ruler.
The skeleton, with a metal arrow in its back and severe trauma to the skull, was exhumed from a car park behind council offices in Leicester last week during an archaeological dig.