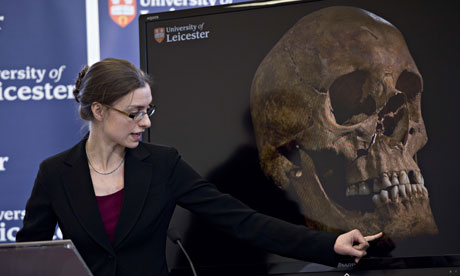 Jo Appleby From Leicester University during a press conference confirming the discovery of the remains of King Richard III. Photograph: Andy Weekes/Rex Features
The "king in the car park" story has proved irresistible for the media. The discovery of the body of Richard III is a huge coup for archaeologists at Leicester University who can be rightfully proud of their find. But the way it's been reported raises some uncomfortable questions about news values and history.
Charlotte Higgins has blogged that it's all about "impact", the dreaded pressure on academics to demonstrate public engagement with their work. But it's also about the media and what news organisations want to print, promote and broadcast. Can you really blame universities for picking out those bits of their research that will interest the press, and putting them out there in the most media-savvy way possible?
This is a historical story that ticks lots of news boxes. It has royalty and celebrity – controversial royalty at that, given Richard's historical reputation as a "bad king". It has a nice touch of the ordinary: the discovery in the mundane urban environment of a car park. It has a supporting tale by the screenwriter and member of the Richard III Society, Philippa Langley, who says in the Daily Mail, that she "felt a chill on a hot summer's day as she walked through the area where it was thought he was buried". Not just history, but ghosts. And the big reveal of the results has been thoroughly stage-managed, with live TV coverage and a Channel 4 documentary.
Read the rest of this article...